3 Simple Steps to Reduce Condensation
RPARTS.COM – Refrigeration supplies
Good Source for Cheap Antifouling and Epoxy especially post #20
http://www.cruisersforum.com/forums/f47/do-i-need-to-strip-my-bottom-191809.html
DIY Copper Antifouling especially post #114
325 mesh 99.4% purity 2 Kg/liter of Westsystems 105 epoxy.  Three coats, wet on tacky.  Stir a lot.  Regular epoxy, not aquaepoxy.
http://www.cruisersforum.com/forums/f124/is-coppercoat-anti-foul-worth-it-160343-8.html         post #114
The Stingy Sailor – Greats Ideas for Saving Money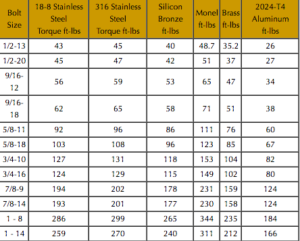 The Mast Step
Hughes sailboats were designed with a galvanized steel I-beam that runs from the mast step forward. The forward part of the keel is bolted to the bottom flange of this beam. Some were built without sufficient limber holes in the forward floors, which allowed water to pool under and on the galvanized beam causing it to rust. If this rust is serious, it would be expensive and difficult to repair. First signs of a problem with this structure would be a hairline crack between the keel and hull at the front of the keel.
Water Tanks
The water tanks in the original S&S design were specified to be made of monel, but they were installed as fiberglass with aluminum plates on the fore and aft ends.
Hull Deck Joint on Hughes Sailboats
The hull has an inward turning flange at the gunwale. On top of this flange is a double thickness of medium-soft rubber gasket. The deck was dropped on top of this and temporarily held in place with pop rivets.  The toerail was then added, and holes drilled through the fiberglass and gasket for 1/4″ bolts. Tightening the bolts squeezes the rubber gasket around the shaft of the bolt.
(Commodore's Note:  This gasket is probably what Fatty Goodlander referred to as the "squashed inner tube")
Reconstruction of a Columbia 38 
Reconstruction of a Cal 40 Video Series – although not a Hughes 38, the Cal 40 is of the same general era as the Hughes 38 and some of the problems and solutions are shared with our boats.  i happen to think that our boats were better designed and constructed than the Cal 40, but this video series is interesting nonetheless.
Hughes 38 Construction Details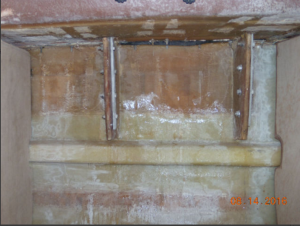 Chainplate Detail – H38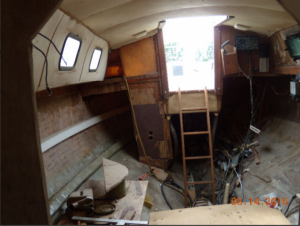 Stringers Main Cabin – H38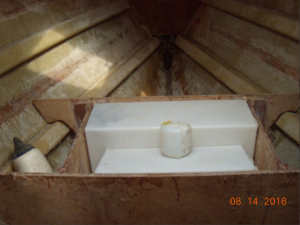 Stringers Forward Cabin – H38
I Broomfield & Son in Providence, RI. said:  "When replacing keel bolts, we melt the lead around the bolt, remove the old bolt (which is usually 304 SS), and replace it with a new bolt (316SS). The lead is replaced and the keel is faired and painted around the area. The cost is $450.00 per bolt. Depending upon the time of year, the number of bolts that need replacing and how busy we are it usually takes about 4-6 weeks. This price does not include freight. The re-attaching of your keel is usually taken care of at the boat yard, this is something that we are not involved with at all."
Keel Bolt Replacement:
The best, strongest and safest method of keel bolt replacement is done by Mars Metals and a few others. This is the description from Mars:
"The bolt replacement process goes through these general steps:
• The damaged bolts are identified when the keel arrives.
• The bolts are removed through one side of the keel. This is done with a great deal of skill with a torch taking
the upper surface of the lead away.
• The old bolt is used as a pattern for the production of the new bolt. Most keel bolts are J hooked or bent in
some manner.
• Once the old bolt is removed there is a "saddle" of lead remaining, creating the position for the new bolt to
be held.
• The new bolt is fabricated from new matching material.
• The new bolt can even be welded back into the bolt cage right in the keel.
• The new bolt is fused into place. Lead is melted back on top of the new bolt, fusing the original lead and
the new lead, making the repair as strong as the original keel.
• The entire surface of the keel is faired, both sides.
• The root cord is cleaned.
• The remaining original keel bolts are cleaned and readied for installation on the boat."

Keep Your Keel On – Sail Magazine
Taken from Maine Sail on Sailnet 
There are a few ways to re-bed a keel and none of them, for me, would involve only a standard epoxy. Fin keels on older boats will move and flex some. They can be essentially a live joint unless you physically wrap the keel with lamination's of glass which many have done after re-sets. Epoxy it on and it will still move or flex some. A flexible epoxy in conjunction with a marine sealant will work better.
Unfortunately standard epoxy has minimal elongation before break so when it flexes it will fail considerably quicker than a flexible marine sealant. A product like a polyurethane can have a flexible range of 450% to 800% of the joint thickness thus allowing for movement/flex and the differing expansion contraction coefficients between the lead and the polyester/glass laminate. On a low aspect lead keel the flex is much more minimal and epoxy may be an okay choice but on a fin it is a likely short life before water gets to the keel bolts unless it was of the flexible type. Some manufacturers use special epoxies from the factory but even builders like Morris use a polyurethane sealant.
The best method I've seen where epoxy is involved is to mix an epoxy butter and then heavily wax the lead keel & bolts, or use mylar tape, or better yet grease the bolts. Drop the boat onto the keel and epoxy butter, let it cure lift boat off. Now you have a nicely matched hull to keel joint like a cylinder head to an engine block. You can also do it in reverse but I prefer the bond of epoxy to fiberglass as opposed to epoxy to lead for the epoxy butter mixture though either is probably fine as epoxy is tenacious.
Next you take a Dremel tool and cut a shallow v-groove into the top of the lead face of the keel that meets the hull. A laminate trimmer and edge guide with v-bit works better if the keel is wide enough for it to fit. Go all the way around the keel about 3/8 to 1/2″ in from the outer edge until you complete a circle and the v-groove joins its self. Now apply a marine sealant, I like Sikaflex but 5200 is also good as is 4200, and drop the boat back down. The v-groove makes a nice thick gasket that can absorb lots more flexing than no thickness or minimal thickness. A 1/8″ thick bead at the v-groove, of 5200, 4200 or Sika will stretch and move a LOT more than 1/64th of an inch of sealant before a failure. 600% of 1/8″ is much more allowable movement than 800% of 1/64″.
Most all builders do not take the time to make a "gasket groove" or to "butter match" the hull to the shape of the keel. It involves a lot more time than builders are willing to exert or spend time/$$ on.
For anyone's sake I would not advise solely the use of standard epoxy to bed a fin keel on a production boat. You may need some allowable movement as the forces on a fin keel are tremendous. I've yet to see very many that did not move some.
Any movement with standard epoxy will likely mean failure. Just because a fairing compound has cracked due to movement does not mean the marine sealant between the hull and keel has. All one needs to do is look at the raw number of boats in yards with fairing cracks along the keel/hull joint to see why using epoxy on an older hull as the sole sealant may lead to trouble. If the fairing cracks so then will the epoxy.
Here's a link to a good description, of "butter matching" the keel/hull joint, though they did not cut a sealant/gasket groove..
Rebedding the Keel – Stella Blue
Keel Maintenance by William Souter
String of Pearls – Tidbits from Don Casey
Good article, but in my opinion, he is wrong about bedding deck fittings.  Use butyl tape.  Here is how:  Butyl Tape 
Keel Bolts 
Torquing keel bolts properly is an important part of maintenance on a Hughes 38 – or for that matter any boat with external ballast.  This is what is probably the best advice – subject to change as more information comes in.  The Hughes 38 has 1″ (or  possibly a little larger) stainless bolts and fine thread.
Minimum torque is 90 lb-ft and target is 100 lb-ft for the 1″ nuts.  The 1″x 8 nuts take a 1 1/2″ socket.   Keel bolts should be tightened in a staggered pattern as shown by Beneteau in this drawing:

Keel on the Hughes 38 has stainless nuts with big stainless flat washers on cast-in stainless studs. I don't remember the size… probably around 1″ or a bit bigger, fine thread. If you use a normal size ratchet handle it would be hard to break one. They shouldn't be overtightened anyway, because they're not holding steel together, they're joining fibreglass to soft lead with sealer in between. They probably wouldn't break… they might pull out of the lead first.   4200 should be used to seal the lead to the fibreglass keel stub.
5200 is a powerful adhesive, and also a sealer. 4200 is a good sealer and a weak adhesive. When old 5200 is separated to remove an old part it "rips the substrate" (rips the top layer of fibreglass off and damages it badly). 4200 doesn't do that. 5200 will come off better if it is heated with a heat gun though.
Sources:   http://forums.sailboatowners.com/index.php?threads/keel-bolt-maintenance.178671/&highlight=keel%20bolt%20torque
https://dl.dropboxusercontent.com/u/955501/Keel%20Bolts.pdf
email from Robert Hess
Thru Hulls – Mk III  
Below water line –  Raw water inlet, head inlet, head outlet, head basin outlet, galley sink outlet.  5 in all
Above water line – Two cockpit drains, exhaust outlet, bilge pump outlet, manual bilge pump outlet.  5 in all.
Some owners report ball valves, others report gate valves on their boats.
Hull Numbers – They were stamped on a metal plate riveted to the side of the cockpit near the transom.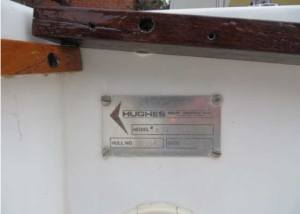 From a Mk 3 Hughes 38

From and unknown Hughes boat
Deck Repair
Hull Construction
Some have alledged that the Hughes 38 uses balsa coring in the hull above the waterline.  Here is an email i received from S&S:
Jon,

Thank you for your email and your interest in the Hughes 38.

Based on the information we have here in the office, it looks as though the hulls were entirely single skin fiberglass. However, this could have been modified post-design by the builder – so the only certainty I can provide is that the original design did not account for it.

I hope this is helpful.

Best Regards,

Jason

Jason Black

Chief Operating Officer