Ahoy mate!  Im jon, the Commodore of Hughes 38 Owners group.  i have always been fascinated with boats, especially sailboats.  i've been sailing since i was 10 when my father bought me a Penguin, complete with trailer, and i began to sail first in Millerton Lake then Huntington Lake in California.  i sailed that boat till i was 40, leaving it for many summers beached on the shores of the lake and driving up every Saturday or Sunday to sail.  In addition to Jorny, my Penguin, i have sailed Flying Juniors, Lidos, Thistles, Hobie 14s and 16s, sailboards, San Juan 21s, MacGregor 25s and a 40' plywood ketch.  i spent much time in my mid twenties building SV Zenobia, a William Atkins design ferrocement cutter Eric – a cousin to the Westsail 32.  i am now modifying a Hobie 14 to be an experimental hydrofoil, to be named Stray Cat Strut. 
Several years ago, i began to research boats for use in the ocean – where, as a lake sailor, i have always wanted to sail.  i read ads on Kijiji and checked out each design that interested me on sailboatdata.com.  At first, i was attracted to boats like the Pearson Triton, the Alberg 28, and the Acadian Yawl. i overlooked the first Hughes 38 that i came across, SV Red Castle, because i was focused on slightly smaller boats around 30' like my Eric.  Reading about the limits of singlehanded sailing, i came to believe that around 600 sq ft total, 100% foretriangle was the maximum for the average sailor.  This led me to research longer boats, like the Catalina 38, the Yankee 38, the Cal 40, the Corbin 39, and finally the Hughes 38.  It was at this point that i realized what a great value the Hughes 38 was, (for reasons i extoll on another part of this website).  Since then i have been researching and collecting data on all the Hughes 38's that i can find on the web.  In order to organize my findings, and because i wanted to build a website anyway, led me to start hughes38.com.
The family is now planning on moving from Montreal to Halifax, perhaps in the summer of 2017, and i am planning on buying a boat – a Hughes 38 of course!
Scott with SV Thula Mama
Hi all,  Just to introduce myself, I live in Melbourne, Australia. I bought Thula Mama from a Dutch couple who sailed from Darwin to Indonesia. They originally purchase Thula Mama from a couple who sailed from the US to Australia across the Pacific.
I assume I maybe the only H38 owner in Australia.
We have had to do some work as you would expect of a 1980 built boat. It had a Yanmar 15hp engine, which is under powered and very old. I assume this replaced the original Petrol Atomic 4 engine.
We installed a new Beta 30hp which, made a significant improvement in control and speed. It also was less embarrassing when I started the engine first thing on a cold morning!  The old Yanmar blew a lot of smoke. I think the rest of the marina thought the Beverley Hill Billies had arrived!
The usually things have been replaced due to age and the hull join has been re-sealed and covered with an aluminium trim.
We have sailed her around the Great Barrier Reef area and had her trucked down south to Melbourne after we bought her.
We would like to sail to Tasmania at some stage.
Hope you are all enjoying you H38's also and look forward sharing some stories with you.
Scott Cumming
"Thula Mama"
Eddie with SV My-D-Fun
Howdy to all,   It is great to finally be in touch with other H38 owners. A little about my self and "My-D-Fun". We live in  the DFW area of Texas and we have "My-D-Fun" in Kemah which is in the Houston area of the Gulf coast. We have had her for about 14 years. She is a 1972 Hughes 38. We bought her from a guy that tried to sail her from Galveston to Florida and unfortunately he somehow ran the batteries down so he had no engine or bilge pump. He almost sunk her. And of course since the engine was over the keel, the engine was toast. He replaced the Atomic 4 with a new Atomic 4. It is still there and I have not had any problems with the engine. I spent every moment that we weren't sailing with upgrading her. I replaced all of the wiring. I installed a wind generator and solar panels. I installed A/C and refrigeration. All of the electronics have been upgraded.The first 4 or 5 years we would drive the 6 hours to Kemah every moment we had off. Then I went to work overseas in many of the hot spots of the Middle East. I was there until the end of 2011 and now work in Kenya. We do not get down to Kemah as much. I am only in the country every 6 months for 3 weeks at a time. But we still enjoy the time we spend on her.
We are hoping to sail her to Mexico pretty soon to our home on the beach of the Yucatan.
I hope to hear about some of the other owners.
Eddie Flores
"My-D-Fun"
Jerry with SV ???
Howdy,  I have a 1972 Hughes 38 MKII.  Currently powered with an Atomic Four.  In fact I put a new one purchased from Moyer Marine in it two years ago.  I have been happy with the A4 and I understand it.  Also the cost to go to diesel was prohibitive.  I purchased the boat in 2009 in Ontario where I live in the winter. Over the last two years I sailed from Lake Ontario to Nova Scotia where I live all summer.  Great trip.  As you likely know the 38 is a great sailing boat I have been in 45Kn winds and fifteen foot waves and she is very stable and safe. I am still on the hard at the moment doing some work.  I am resealing the hull to deck joint among other things.  I plan to sail in July for Newfoundland and winter there and next year perhaps on to Greenland (we'll see) I have completely rewired the boat and added a lot of gear.  If you have any questions etc. please let me know.  You have a great group and website and I am happy to have found it.
Bye for now
Doug and Stephanie with SV Wildflower in Rowayton, Connecticut 
She's a 1969 vintage with an Atomic 4. She appears to be largely original, but we didn't know anything about Hughes boats until we first saw her, so I might have to amend that statement after further review. We fell in love at first sight and can't wait to get her launched. She's been sailed all these years, according to the prior owner, whom she'd been with since 1980.  Here are a couple of photos of Windflower.  One is of the lettering on the transom. We went very classic.  In a lucky coincidence, a neighbor happens to be an artist who did a lot of hand lettering of classic boats back in the 60's & 70's.  It took her 2 1/2 days to do the job and we're very happy with the results.  Doug has spent a lot of time on the Atomic 4; he's quite intimate with it by now. He also replaced the gas tank and did about a thousand other things that I couldn't explain, but that I know I'm grateful for! He will be replacing the deck this winter.  We feel fortunate that she was with her previous owner for ~36 years, so he knew her well and kept her pretty original, we think. He also doesn't mind when Doug calls to ask the occasional question.  We've had a good experience.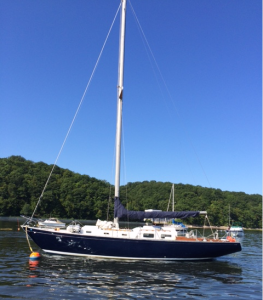 Boy, does this boat sail beautifully.  She sails SO WELL to wind.  She's so sure and steady and it sometimes feels like she sails herself.
Tony with SV Galatea V
Port of registry: Shelburne NS, Canada
Current 'homeport: Riverport, NS
          No hull number….this hull / deck / liner was laid-up in 1979 along with a sister-ship as 2 'kit' boats and went out the 'back-door' of Hughes Boatworks when they were on the financial 'rocks'.
I believer her to have hit the water in 1980/1981 along with her sister ' Clarity'. Built side-by-side n 2 backyards in the Terrance Bay area of NS, they have different powering and interior layouts. Apparently one guy knew boats and the other knew cabinetry so; voila!
          Galatea V presently has a Volvo Penta 2003 Saildrive mounted under an extended-forward companionway step. I believe her sister had a more traditional arrangement – later upgraded to a Universal diesel.  The builder/owner, who had major cruising aspirations, found he had a fear of losing sight of land so sold her to the man I bought her from, Ken of Shelburne NS. He and his sons raced her for many years out of Shelburne Harbour Yacht Club in handicap events with a good degree of success. She is pretty much retired from racing now but still does some 'fun' events.
          She has been at Lunenburg Yacht Club and LaHave River Yacht Club (where I was once Rear Comm) and is now between Bridgewater Marina (winter-storage) and her mooring here in Riverport, where I can see her out my front window as I type this.
Hi Jon
Thought I'd give you a bit more detail about Galatea, if you are interested – will include a pic too.  As you may remember, Galatea was a kit-boat of sorts. The builders did a fair bit of design on their own; rig and keel, interior, etc.
          When Ken (the 2nd owner) had raced her for the first season, he felt she was much more tender than he thought she should be.
Turned out that the builder had welded up, out of steel plate, a hollow 'box' for the keel which he then filled with lead then faired it with compound. This resulted in it being much lighter than the designed ballast weight.
          Ken and friends had a pretty good understanding of boat design and agreed that this hull could stand a fair bit more ballast than even the design weight, especially because of the diesel sail-drive, which placed the engine weight about 5′ – 6′ further aft.
          I am not sure how (or if) he calculated it, but he has added about 2 tons of extra lead to the forward face of the keel, changing the shape so that the angle is a bit steeper, less swept aft, than the design calls for. This results in Galatea having a slightly deeper draught and sits a bit 'down-by-the-bow' with her forward water tank full.  (Ken always raced, never cruised, so carried minimal water.)  She weighs 19,900 lbs., measured as she was being lifted by a crane, with most of her gear aboard but with tanks empty.
          This makes her very stiff and seems to improve performance. She gets 'happy' at about 20kts and I have raced her unreefed in 30ish (light crew – easier to luff than try to get a reef in with 2 crew aboard – won that race BTW;  finished about 5 min behind a J-92 that owed me about 23 min on corrected) She is starting to show her age so I am at the time to make a decision as to whether to apply another coat of money or just do minimal upkeep to keep her safe and sound….hmmmm.
          Today was the first time I have checked out your web page in a bit of detail. Lots of good stuff there.  Thanks for starting the site. I had contacted S&S when I got the boat 13 years ago and some nice person provided me with copies of Olin's original drawings but they got lost to me when a computer died before I got around to printing them.
Cheers!
Tony