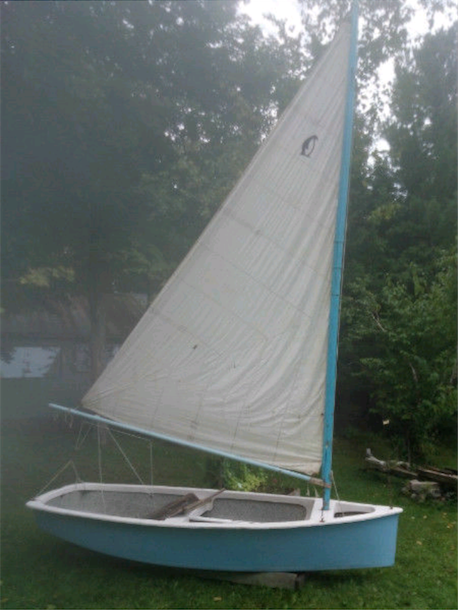 Commodore's First Boat – SV Jorny  Penguins are best known for frostbiting. Designed by Philip Rhodes.  i guess i like boats by famous naval architects!  i got this boat when i was 11 and sailed it for many years.  Penguins are very weatherly and on a lake that is oriented in the direction of the wind, you beat to windward for hours and then run downwind for a few minutes!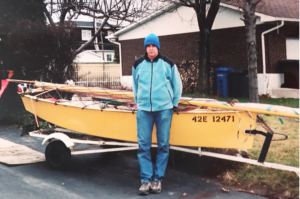 SV Jorny Being Sold
The Eric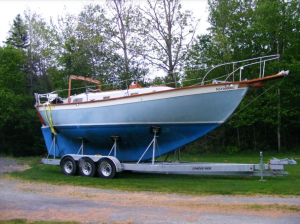 Commodore Built Ferrocement – SV Zenobia – a William Atkins Design, based on the Colin Archer Eric.  This is not my boat, (i'm looking for my old photos) but it is similar to this one.  The name has nothing to do with a famous eastern religion, but rather to a warrior queen that battled the Romans.   Zenobia    Back then there were no cheap available boats for the financially challenged person to buy.  i have to wonder however why anyone in this day and age would attempt to build their own boat with all the cheap plastic boats available in every state of disrepair.  It is certainly easier and faster to repair an existing boat than to build from scratch.  There are several fixer upper Hughes 38s available at any one time that would make good refit projects – some in sailable condition with only cosmetic repairs needed.
Foilcat 14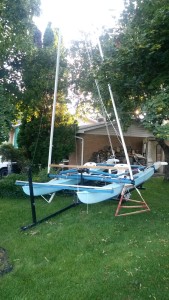 SV Stray Cat Strut – a Hobie Cat 14 with twin aluminum poles joined to the vertical of the hull.  The main hydrofoils are clamped to the twin aluminum poles.  The rudders have hydrofoils for leveling the boat under sail.  Still under construction.  Scheduled for launch as a swing tack hydrofoil summer 2017.