February 2018
3 Simple Steps to Reduce Condensation
Perkins-M20-25-30-35 Operating Instructions
Perkins 100 Series Workshop Manual
October 2017
Repair Manual – Kanzaki zf_gearbox
Yanmar Tech Bulletin – Gearbox Position when Sailing?
Radian Rule – Navigation
COLREGS Summary and Action Chart – Navigation
Tsunami Effect of Cruise Ship – Seamanship
Dangerous Semicircle Essay in Weather
Jordan Series Drogue Instructions – PDF
Beaufort Scale   (PDF)
Weather, Barometer, and Wind  (in PDF form)
Barometer, Wind and Temperature WX  (in PDF form)
i put both of the above forms on a single sheet of paper and laminated it for waterproofness.
Good Source for Cheap Antifouling and Epoxy especially post #20
September 2017
Wavetrain Techniques and Tactics 
August 2017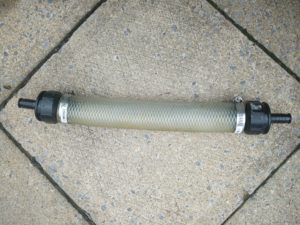 Diesel Water Vapor Trap – less than $5 – solution to bugs in diesel fuel.
July 2017
MaineSail on the 1 Both 2 Off Switch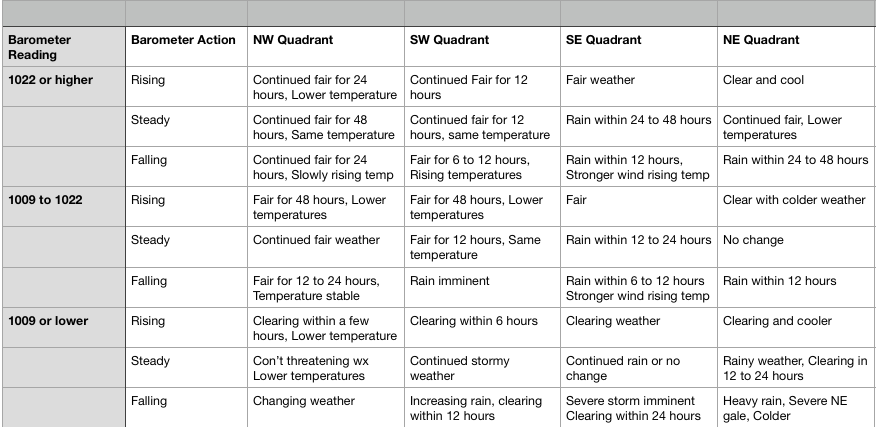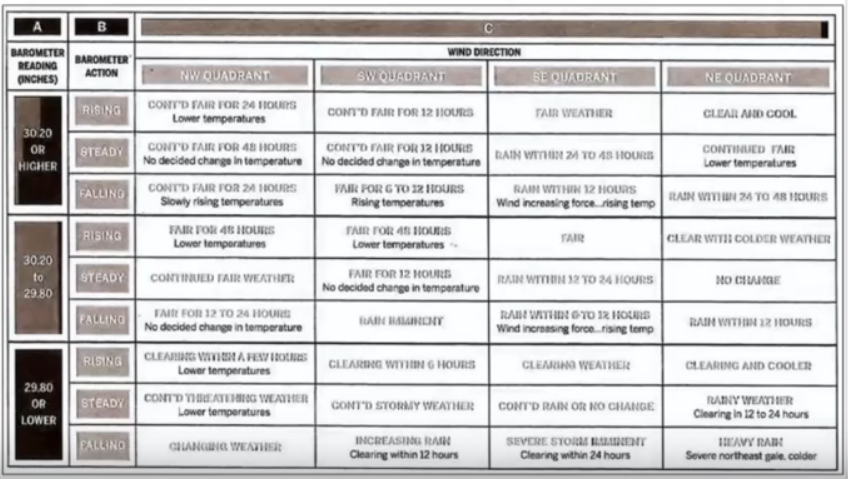 SmartGauge Electrical Explanations
ABYC specs 182.455
Surface Winds Realtime Visual Representation 
Ocean Prediction Center's Radiofacsimile Charts User's Guide
Added Colregs to Navigation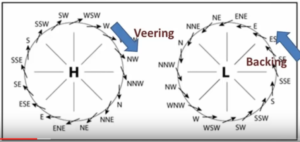 Reorganized and renamed Navigation, Seamanship andWeather
Getting_Started_with_Winlink_and_WINMOR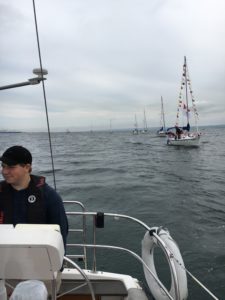 View from the stern of Walter Pelley's H38 Avatar – Canada Day Sailpast
June 2017
IC-M700 Instruction Manual – i bought an Icom M700SSB radio
Coastal Climate Control – Marine Cooling Systems
Ocean Planet Energy Inc. – Marine Energy Systems
Product Reviews from Pacific NW Boater
(i was interested in the H2Out product to keep the boat or diesel fuel dry, but i learned you anc just buy Silica Gel Dessicant Beads, cotton bags and make your own, for a LOT less money 😉
Revised sail dimensions for Double Headsail Rig based upon Donald Street's recommendations from The Ocean Sailing Yacht vol.2
"Hughes 38 Sales Brochures" has been added to the end of "History of Hughes Boatworks"
Update to "Commodore's Blog"
Lynn and Larry Pardee's review of the Hughes 38 is now added to "Performance Reports"
"Considerations for Repowering the Atomic 4" has now been added to "Engine Resources"
All galley, chart table, saloon, V-berth, and head photos have been regrouped under the heading "Interior"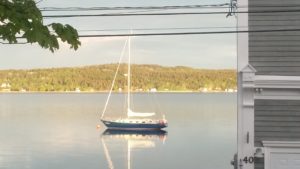 Galeatea V at anchor – thanks Anthony
May 2017
The Stingy Sailor – Greats Ideas for Saving Money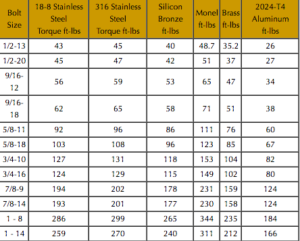 Mariners Guide to Hurricanes in North Atlantic 
A Cruisers Guide to Cape Breton Island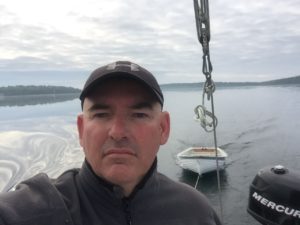 Almost home in Wiskejak
Thru hulls and Seacocks by Raritan – while maybe not the "best" they meet all standards and are exceptional values.
PDFs of how to use the Tru-Design system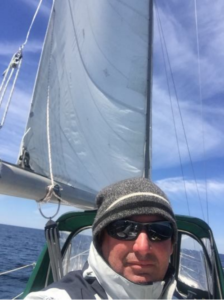 SV Wiskejak – off Cape Croker – May 21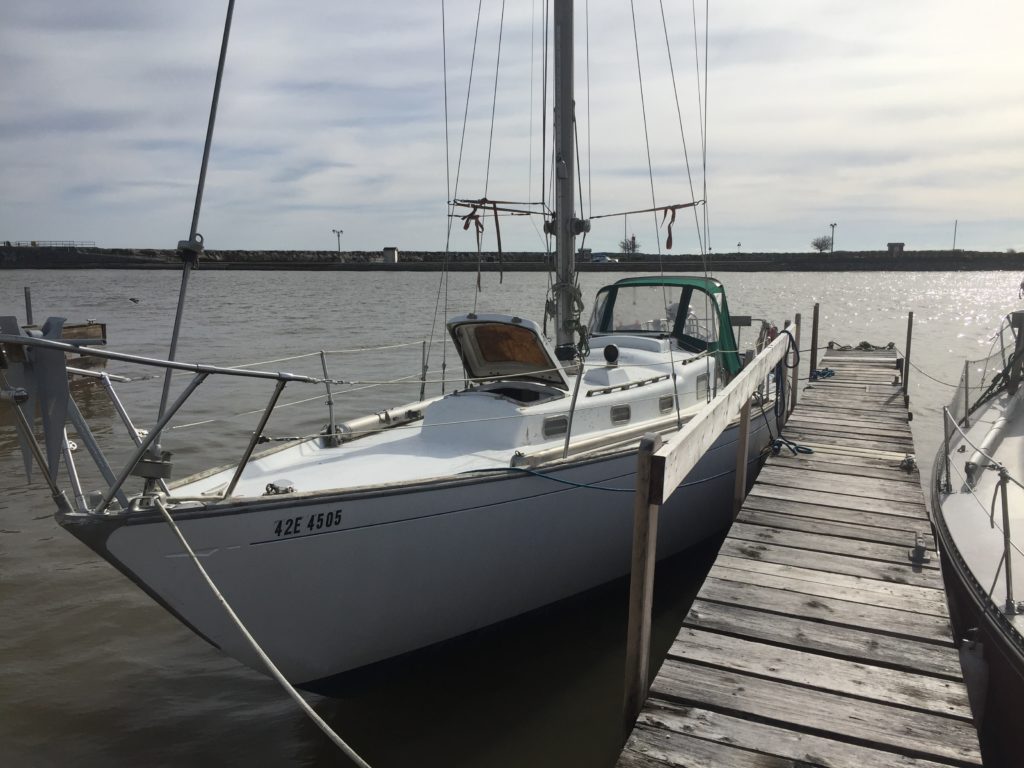 SV Wiskejak – the $1 boat – ready to get underway up Georgian Bay to the North Channel
April 2017
March 2017
Details of Mast Step, Hull/Deck Joint, Watertanks in Construction Details
Online List of Navigational Charts and Guidebooks
Learn to Sail – a very good basic course
Commodore's New Spinnaker, Sock, and Tacker see in Blog
Steve and Linda Dashew gift to you:  a lifetime of free knowledge.
There is sooooo much information in these books that it will take me years to absorb it all.  Thanks Steve and Linda!  Merçi! Danka Schoen! Gracias! Obrigado!
You can get them here:       http://www.setsail.com/free-books/
Or you can get all four of them right here:
Offshore Cruising Encyclopedia
Thanks Gary and friend (former H38 owner) for the following information about the A4:
Atomic 4 Transmission Service Manual
Indego Electronic Ignition for Atomic 4
Tune-up Parts for the Atomic 4
Article from Canadian Yachting on Howard Hughes – in History
February 2017
New Photo of Wheel for Trim Tab in Changes and Options
Tiller Photo in Cinkel Pedestal  Steering
http://passageweather.com/  in Seamanship
January 2017
Vessel Lights App – in Playstore (teaches and tests knowledge of Vessel Lights as prescribed by the IRPCS)
Atomic 4 Repair and Maintenance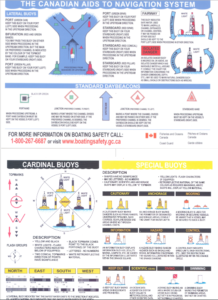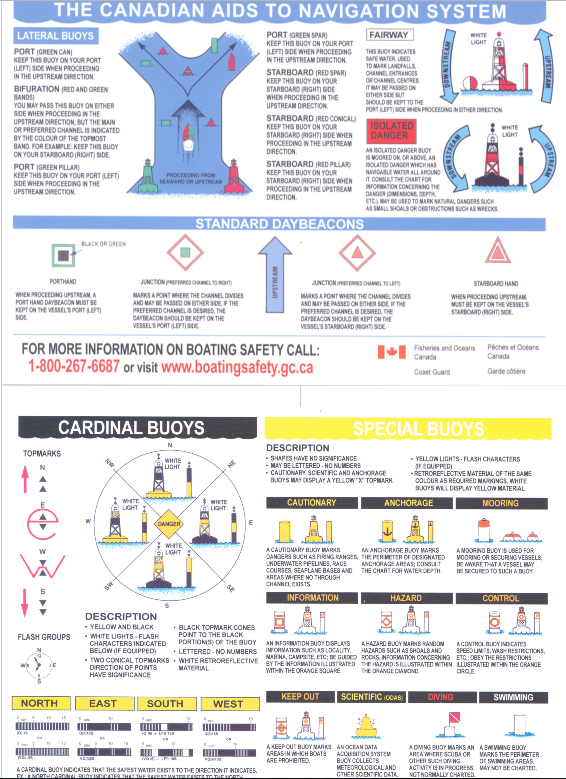 More Hughes history from Bill Kinney with SV Fetchin' Ketch (Northstar 80/20) in "History"
Added photo of SV Witch of Atlas in "Racing"
Added photo of A4 in SV NorWester in "Atomic 4"
Added photo  of trimtab on SV NorWester in "Changes and Options"
December 2016
Hull Deck Joint on the Northstar 80/20 in Construction Details
Engine Resources has been combined with Propeller and a new section added called Seamanship
New Bowsprit in Owners Modifications
November 2016
The-marine-electrical-electronics-bible-1993
Marine Radio Fax Broadcast Schedules
Reconstruction of a Columbia 38 
Volvo Penta Marine Diesel Schematics
Universal Marine Engine Schematics
New page on Hinckley 38 with evidence that it is not the same design as the Hughes 38.
Peter Smith (Developer of the Rocna Anchor) has a good discussion on rodes here:
Emergency Tiller –  Every boat should have a useable emergency tiller.  On the MK3 the tiller head is forward of the pedestal making for an easy emergency tiller.  Here are some pics of a Cal 40 tiller and tiller head: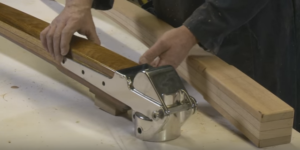 For the Hughes 38 MK3 i get distances of 52″, 46″, 40″ and 36″ from the center of the tiller head to the aft end of the cabin roof (by scaling).  This is obviously not very accurate.  Does anybody have a better measurement for max tiller length for easiest steering?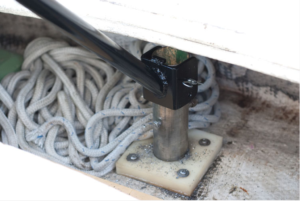 Homemade Hunter Emergency Tiller
Chains, Ropes and Anchors   A good source of anchoring equipment information
I spend time cruising the sailing forums – i don't post much because they are a vast wasteland.  BUT like in wastelands you can find golden nuggets like these free ebooks by Steve and Linda Dashew.  Well worth your time to read.  i'm currently reading Practical Seamanship.
Mariner's Weather Handbook by Steve and Linda Dashew
Surviving the Storm  by Steve and Linda Dashew
Practical Seamanship  by Steve and Linda Dashew
Offshore Cruising Encyclopaedia  by Steve and Linda Dashew
Cal 40 Restoration Video Series
Edson Manual Pump Demonstration
October 2016
Rudder
Trim tab discussion inclucing pic of Hinckley 38 with trim tab
Owner Modifications
Bowsprit picture
Pulpit on bowsprit picture
Home Page
Photo of Galatea V under sail
Who's Who
More on Galatea V from Tony
Commodore's Preferences –
Edson Manual Pumps – 30gpm with 2 Pics and PDFs
Don Street on Edson Manual Pumps
Coast Pilots – Atlantic Canada
Sta-Loc fittings
My Team Talks – bluetooth headsets
Sailing the Farm
Rigging – more on the tall rig and photo!
Commodore's Blog – 2 new posts
Hughes 48 page – new
Wallas Diesel Stove/Heater   – Pricey but very good
Anchoring
Snubber Diameter
Construction and Maintenance
I Broomfield of RI on keel bolt replacement
More on Keel bolt replacement – Mars Keel
Photos of Chainplate Detail, Stringers in Forward cabin and Main cabin
Keep Your Keel On – Sail Magazine
Taken from Maine Sail on Sailnet 
There are a few ways to re-bed a keel and none of them, for me, would involve only a standard epoxy. Fin keels on older boats will move and flex some. They can be essentially a live joint unless you physically wrap the keel with lamination's of glass which many have done after re-sets. Epoxy it on and it will still move or flex some. A flexible epoxy in conjunction with a marine sealant will work better.
Unfortunately standard epoxy has minimal elongation before break so when it flexes it will fail considerably quicker than a flexible marine sealant. A product like a polyurethane can have a flexible range of 450% to 800% of the joint thickness thus allowing for movement/flex and the differing expansion contraction coefficients between the lead and the polyester/glass laminate. On a low aspect lead keel the flex is much more minimal and epoxy may be an okay choice but on a fin it is a likely short life before water gets to the keel bolts unless it was of the flexible type. Some manufacturers use special epoxies from the factory but even builders like Morris use a polyurethane sealant.
The best method I've seen where epoxy is involved is to mix an epoxy butter and then heavily wax the lead keel & bolts, or use mylar tape, or better yet grease the bolts. Drop the boat onto the keel and epoxy butter, let it cure lift boat off. Now you have a nicely matched hull to keel joint like a cylinder head to an engine block. You can also do it in reverse but I prefer the bond of epoxy to fiberglass as opposed to epoxy to lead for the epoxy butter mixture though either is probably fine as epoxy is tenacious.
Next you take a Dremel tool and cut a shallow v-groove into the top of the lead face of the keel that meets the hull. A laminate trimmer and edge guide with v-bit works better if the keel is wide enough for it to fit. Go all the way around the keel about 3/8 to 1/2″ in from the outer edge until you complete a circle and the v-groove joins its self. Now apply a marine sealant, I like Sikaflex but 5200 is also good as is 4200, and drop the boat back down. The v-groove makes a nice thick gasket that can absorb lots more flexing than no thickness or minimal thickness. A 1/8″ thick bead at the v-groove, of 5200, 4200 or Sika will stretch and move a LOT more than 1/64th of an inch of sealant before a failure. 600% of 1/8″ is much more allowable movement than 800% of 1/64″.
Most all builders do not take the time to make a "gasket groove" or to "butter match" the hull to the shape of the keel. It involves a lot more time than builders are willing to exert or spend time/$$ on.
For anyone's sake I would not advise solely the use of standard epoxy to bed a fin keel on a production boat. You may need some allowable movement as the forces on a fin keel are tremendous. I've yet to see very many that did not move some.
Any movement with standard epoxy will likely mean failure. Just because a fairing compound has cracked due to movement does not mean the marine sealant between the hull and keel has. All one needs to do is look at the raw number of boats in yards with fairing cracks along the keel/hull joint to see why using epoxy on an older hull as the sole sealant may lead to trouble. If the fairing cracks so then will the epoxy.
Here's a link to a good description, of "butter matching" the keel/hull joint, though they did not cut a sealant/gasket groove..
Rebedding the Keel – Stella Blue
Keel Maintenance by William Souter
Engine Resources
Kanzaki Transmission Service Manual
Transmission Schematic
September 2016  – this month i've added a bunch of links from author Don Casey (in italics)
General Nautical Links
Weather Charts by E-mail from NOAA
Anchoring
Electric and Electronic 
Understanding the Three-Stage Regulator
There is nothing wrong with your radio
Construction Details and Repair
String of Pearls – Tidbits from Don Casey
Good article, but in my opinion, he is wrong about bedding deck fittings.  Use butyl tape.  Here is how:  Butyl Tape 
Who's Who
Pictures of Hughes 38 Owners Boats
Home Page
SV Windflower  Stern
August 2016
Racing
SV Avatar wins Race the Cape
SV Avatar's winning crew in fine form