The Search For
i had thot that i would wait till i got an H38 before starting my blog, but i have changed my mind to begin my search for the right boat.  Not necessarily the "best" boat, because each skipper should think that his or her boat is the "best", but the boat that is right for me, the boat that is "my boat".
February 2018
While i wait for SV Hybeaa to be available for viewing, i have made some important decisions about a trimaran.  i don't want a fixed low aspect keel, like with SV Juniper as this would not allow me the shoal draft option and not be weatherly like with a centerboard.  i would rather have a centerboard and the attendant hassles rather than give up the performance to weather.  Ability to go to weather makes for a safe vessel.  i also won't consider a boat without an inboard engine, preferably a diesel, like many trimarans, even big ones sometimes have outboards.  i have also located a Searunner 40 trimaran located in Panama for sale for almost the same price as SV Hybeaa and built with epoxy coated plywood.  Not as good as the constant camber construction, but having the capacity to carry lots of weight and having a really good equipment list.
i finished sewing the Mastmate copy that i built for $50, but have yet to install the brass grommets.  My "grand dechets" sewing machine (free) worked really well with the thread and needles from Sailrite.
November 2017
So then i have found another trimaran in Maine, SV Hybeaa, a CC40.  This one is Constant Camber epoxy/wood composite construction designed by John Marples.  Cutter rigged, centerboard, kickup rudder with a stub keel to protect the rudder and the hull when hauling or grounding.  i am unsure of the payload of this smaller boat, only 2600 lbs, so i am making a weight budget for cruising to the West Indies with my wife to see if the CC40 is large enough or whether i should hold out for a CC44, (which has a payload of 4000 lbs) or even go for Chris White's Juniper which is for sale in Puerto Rico.  Someone on my thread on Cruisers Forum tells me that i am overthinking this and that others have sailed around the world in boats much smaller than a CC40.  No doubt this is true, and i could delete some things like the bicycles and the windsurfer to sail around the world, but then i would have to carry more safety equipment – drogues and such and many more spares, not to mention food, and so i doubt that there would be much difference in weight.  Just the fact that others have succeeded is not sufficient proof that an overweight or underequipped boat is safe.  Anecdotal evidence is not proof.
October 2017
Well, i don't know how to say this to the Hughes 38 crowd, but my search for a boat has turned to trimarans.  Yes, i know those ugly things.  But, hear me out for a moment.  My wife has decided that she would like to go with me, and i really don't want to sail alone.  i will if i have to, but not by preference.  Anyway, she is afraid of heeling on a boat and she suggested a catamaran.  i said no catamaran but a trimaran is a possibility.  i have been studying trimarans intently and i have found several advantages.  i had always listened to Donald Street and he hates multihulls and that influenced me enormously – see elsewhere on this site.  But i read Chris Whites refutation of his reasoning in Chris' book and i now agree with Chris White about trimarans.  The gist of the argument is that the trimaran does indeed have a tendance to turn turtle but it is the worlds largest life raft and will not sink.  The trimaran has greater speed and can manoeuvre around many storms at sea, plus spending fewer days on a passage.  Anyway, that is all i'm going to say about the controversy of monohulls vs multihulls.
Sooooooo,  i found a 43′ Roger Simpson design, SV Amacama, in foam core fiberglass in Maine and we went to check her out.  What a mess compared to the photos in the Yachtworld ad.  Altho the owner, who is also the broker, is willing to negotiate, there is too much work for me to get her ready to go to sea.  i want to sail – not fix boats.   There was a lot to like, shallow draft, with centerboard and cutter rig, she would go well to windward, and anchor many places other boats with deeper drafts could not.  In addition, she has been on the hard for 4 years, the diesel never started and looked rusty, the wiring was very well done, but the electronics were old 4 years ago when she was put on the hard and who knows if they work now?  This is all in addition to the problems with the foam core of delamination and water intrusion.  Too much risk and too much work.  Next!
July 2017
My ham call sign is now VE0XYZ
i passed my Canadian Amateur Radio Operators Basic exam with honours on July 4, so now i will have access to the HF ham bands in addition to the marine ones. 😉
i bought this bosun's chair: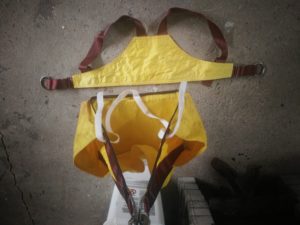 It comes with a separate safety strap. 😉  i plan on climbing using a ladder similar to a MastMate.  i will then sit down and work from the bosun's chair, which will probably be modified to make it more secure.
June 2017
i bought this radio: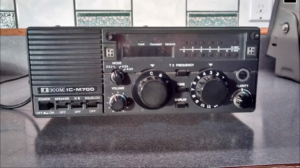 and it comes with a telephone style handset.  cool
May 2017
i bought this Seafrost Marine Refrigeration System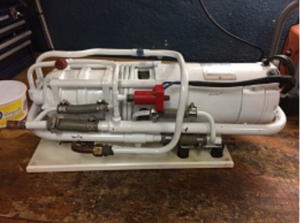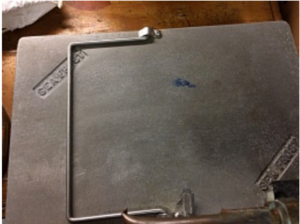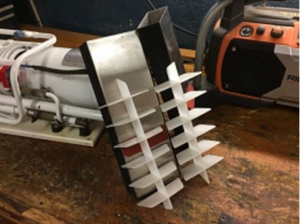 i bought this sextant off Kijiji: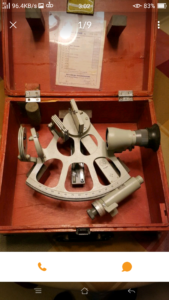 A Freiberger Trommel Sextant from 1977
April 2017 
Here is the boat hook i bought and the one i made (which floats)

i made this sock for my fenders:  And then are all three:
Here is the sewing machine i found on the "Gros Rebuts" that i used: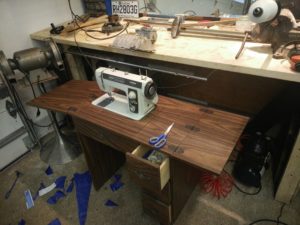 i just bought this hand bearing compass: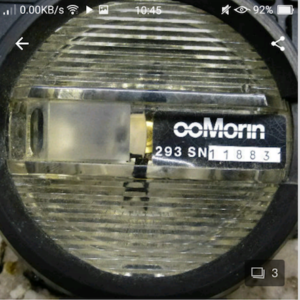 i made a deal for this and this and this:
i bought these off Kijiji: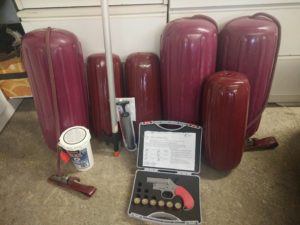 March 2017
Well, while i'm waiting for the seller of SV LaSalle to get back to me, (assuming SV LaSalle is not sold) i have been looking for gear that i will need.  i bought 150′ of 1/2 braided nylon anchor line NEW IN THE ROLL for the big price of $25C.  Yeah!  i also purchased a salt water fishing pole with lures for $100C.  i just made an offer on a Hood asymmetric spinnaker with the ATN spinnaker sock and the ATN tacker.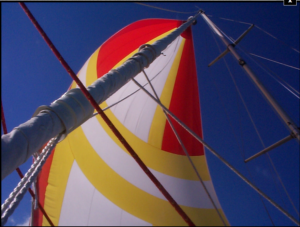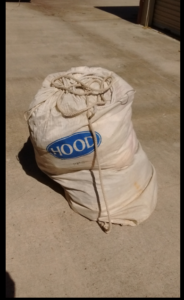 The offer for the asymmetrical spinnaker with the spinnaker sock and ATN tacker was accepted.  Yeah!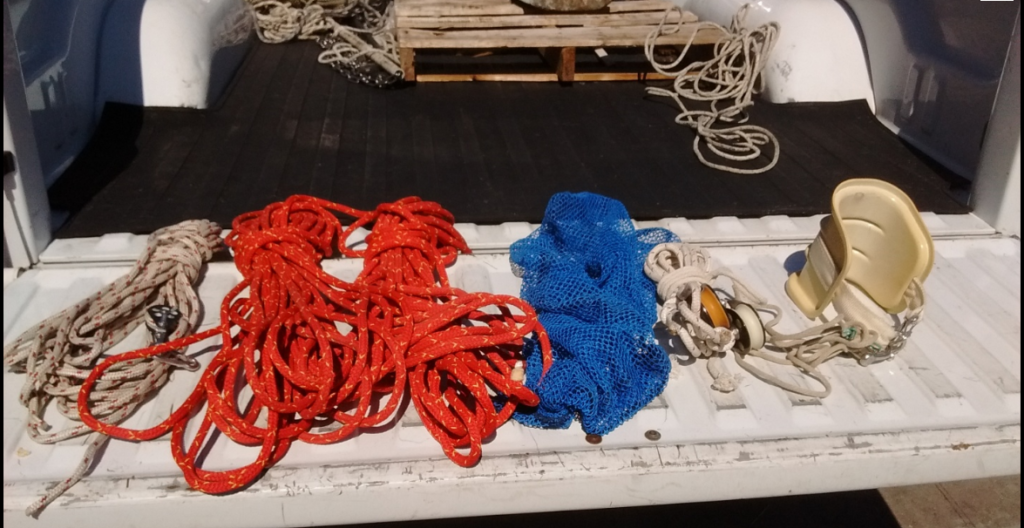 See the video in the above link to see how easy it is to sail with a spinnaker using the ATN system.  😉 . Here is a post on Sailnet about the Asymmetric spinnaker and the ATN system.
SV LaSalle – February 2017
Found a 1978 Hughes 38 for sale, SV LaSalle, which is what i'll call her now for lack of a better name.  Texted the seller and found that supposedly the deck is solid, and supposedly the keel is tight to the hull, with only a cosmetic crack – whatever that is.  i figure that she's worth looking into further, since the interior cosmetics are so nice – with a redone galley that is A #1.  Supposedly a strong Yanmar diesel, and altho it sits in a raised box partly above the cabin sole, i guess i can deal with that later, if other things are right about it.  The topsides would have to be repainted as i can't stand the color, she would look real good in Largo or Ft. Lauderdale blue from Interlux.  The owner is planning a Caribbean trip of three weeks, so seeing her in person will have to wait.  Meanwhile, i'm  building a spreadsheet with costs for various H38s that i have investigated to equip them and to put them in the shape that i want them for ocean voyaging. This will allow me to look past the initial price to the final bill – altho that might be several years out.
Update:  SV LaSalle was sold to a local buyer before i could get a look at her.  Oh well, next.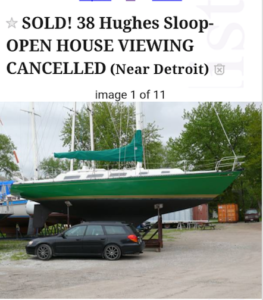 Crevice corrosion rant
Speaking of crevice corrosion,  how can anyone trust a 36 to 48 year old boat, (which is what the Hughes 38s are), without verifying the condition of the keel bolts, and replacing them properly, including bedding the keel and retorking the nuts?  In short, restoring them to new condition?  Unlike when i was building Zenobia, crevice corrosion is well understood now, and the mechanism for conversion from passive to active surfaces on stainless steel is becoming common knowledge.  How can anyone trust their boat offshore without a 100% trustworthy keel?  i mean like, its the keel that keeps the boat on its feet, and if it falls off, (probably at the worst time possible) the boat falls over and you've got a bunch of big holes in the bottom.  Estimates on the internet of $300 per bolt for repairing the bolts by a qualified keelmaker, make for a big bill, especially when yard fees, travel lift fees, and transportation are considered.  But hey, we are buying our Hughes 38s at a BIG discount to similar boats, like the Catalina 38, the Cal 40, the Yankee 38 or the Hinckley 38.  Your keel is not a place to pinch pennies.  Most owners don't hesitate to throw money at electronics that will be out of date in a few years, or niaseries for creature comfort that haven't the least thing to do with safety, or even so-called safety gear like AIS or SSB.  What good will all of that do you when you are on your side, with water gushing in at 1000gpm?  Its simple really, FIX YOUR KEEL FIRST.
There is a Hughes 38 MK 2 at auction this coming Nov 2, 2016 in Toronto named SV Sturm Vogel with a minimum bid of $25.  Obviously needs a lot of work.  Who's willing to save this boat?  Sold for $C125.  Such a deal.
SV #256 – October 2016
That's what i call her, thats the hull number, claimed to be the last one produced.  (but it wasn't i'm pretty sure)  No name given, as i suppose that they are afraid that using the Coast Guard registry (for a documented boat), i could find out the name of the owner and cut the broker out of the deal.    Nothing really fancy about this boat, but it appears to be in good condition.  The interior is really nice – lots of teak, all nicely oiled.  Yanmar diesel, with a claimed 600 hours on it. Claimed original engine, only 600 hours?  Lets see, 36 years divided into 600 hours make 17 hours a year??? Hmmmm  The prop is clearly too big and sticks out too far from the hull.  Again the prop is claimed to be original.  Now there are two possible solutions for these discrepancies.  Hughes put together one last boat with the parts that they had on hand, and maybe an engine from the H35 which has the 21 hp Yanmar rather than the 30 hp that most of the others have, at least those that don't have the saildrive or the Atomic 4.  And maybe a prop from a Hughes Columbia 80/20???  Dunno, but moving on, we find that there really is not a lot of equipment aboard for a boat that is 36 years old.  No windlass, one (too small) anchor, no electronics, except a new VHF radio, no autopilot, no dodger, no bimini, and only two sails.  No bilge pump, NO BILGE PUMP!!!  The refrigerator/freezer doesn't work, supposedly needs freon, and the hot and cold pressurized water doesn't work either.  They claim there is no heat exchanger for the engine, pray tell, how do you get hot water without a heat exchanger?  Pump lakewater thru the engine and into the drinking glass???  They want lots of money for a boat that has questionable or non-existent equipment, and whose keel has a crack between the outside ballast and the keel stub.  Crevice corrosion anyone?  I've come to the conclusion that #256 is not my boat, at least not at this price.  Come down another 10g and we'll talk.
SV My Way – September 2016
She is absolutely beautiful, a MK3.  Just about everything about her is stunning, although some things are definitely not to my taste.  She has a brand NEW Volvo diesel with the saildrive, not my thing but i decided to compromise if the price could be negotiated.  Her deck is painted in a tasteful pattern with color on the antiskid portions, white on the rest.  A folding swim platform on the transom, along with seats on the pushpit and fender holders on the pulpit were things i would have removed before launching.  Heh, heh.  BUT she has a cabin heater, beautiful stove with oven, new chartplotter, pressurized hot and cold water, refrigerator/freezer, radar, depthsounder, Lofrans Tigre windlass (!!!), roller furling genoa, winter cover, dinghy, outboard, and a beautiful cockpit table.  Hey what more do ya want?  Great looking boat inside and out.  So i called the broker. First red flag was he didn't want to tell me the price,  (i was texting using the Kijiji app, and there is no price on the Kijiji ad.  (Later i found that the price is stated  on the Yachtworld ad)).  Finally after asking several times, he stated the asking price, and i replied that the price was WAY out of line with the asking and selling prices of other stunning Hughes 38s (SV Farfalla for instance).  i made an offer that i think is reasonable (considering that i don't want the swim platform, the poop seats, and the fender holders on my boat – (i didn't tell him that though)).   He became rude and insulting.  Now, i thot that it behooves a salesman to build a relationship with a potential buyer, to smooze with him and slowly move the buyer to want to pay for all  the bells and whistles; not destroy any hope of a deal.  i fail to see how belittling my knowledge of boats, my financial status, and my integrity could cause me to overpay?  And for what?  Just to show him?  Show him what, that i'm some sort of dummy that can be manipulated? C'mom, get real.  Next boat.
SV Globi – August 2016
i had seen SV Globi, a 1969 MK 1, on Craigslist Montreal the previous year and kicked myself that i hadn't been more vigilant in searching the ads.  She seemed like a deal and a half, with a deck redone in Corecell and an almost new Nanni diesel.  Asking price was cheap, for all the great things she offered.  Anyway, with the wife out of town for the weekend, i decided to make an excursion of my own to Salaberry-de-Valleyfield in Quebec.  i set up an appointment with the owner, who was  waiting there for me as i arrived.  The pictures made it look as if she were white, but in reality she was baby blue.  i LOVE baby blue boats.  Boat graphics are not my thing however.  The deck was solid, the rig was double spreader, and i asked the owner if it was the tall rig.  He stated that it had been hit by a drawbridge and the insurance paid for a new rig.  The rig was really deluxe.  SV Globi is outfitted with a dodger and a bimini, and the recently varnished exterior woodwork made the deck really lovely.  Below the deck was another story, nothing really wrong, but limited use of teak made it feel utilitarian rather than luxury.  i love LOTS of wood below deck and NO wood topside.  The small head with no shower, and the smaller cabin on the MK1 and the lack of pressurized water that is available in the MK3, added to the utilitarian feeling.  So lets summarize:  great rig, great deck, great engine, great baby blue color balanced against too much exterior varnish, not enough teak below decks, no shower, no pressurized water, small cabin.  i was very tempted to whip out my checkbook and make a deal, but alas, i walked.  Someone else bought her.
SV Eureka – December 2014
i have elsewhere detailed my journey from beginning to look for a boat for sailing in the sea to choosing the Hughes 38, so let me start with my first visit to see a Hughes 38 MK3, Eureka, in Rouses Point, NY, only a few months after "finding" the Hughes 38.   It started with a Kijiji ad here in Montreal in December for a boat whose bilge was flooded with water as it was sitting on the hard.  Soon that water would be ice and could do some damage.  It was being sold cheap as the owner couldn't cross the border to fix her.  My son and i went down on a Saturday to see her.  First thing arriving in NY, we were pulled over by a state trooper for a taillight violation, and i got off with just a "fixit ticket".  Then while we were waiting for the marina manager to take us to see her, we got locked out of my truck, and had to crawl  in the window (long story for another time…)   SV Eureka was in the back lot of the marina with the derelicts and we climbed up to the deck while the marina manager waited on the ground.  The deck was covered in a layer of snow, treacherous underfoot.  No need to break the lock, it was unlocked.  The interior gave the feeling of being unloved and uncared for, altho i'm sure that the owner would have loved to come on down and pay attention to her.  Just one of those things.  We lifted up the cover over the engine to find the bilge flooded with water and a layer of oil on top, just under the level of the cabin sole.  Only a part or two of the diesel was visible.  Total loss.  Due to the level of the water in the bilge, the door of the head was stuck.  Unknown damage to the floors under the cabin sole.  The rest of the interior looked OK.  The keel ballast had a crack between it and the fibreglass keel stub and water was dripping out.  We left to get lunch at the local pizza place.  While waiting for the pizza, i realized i had lost my cell phone and i raced back to SV Eureka and found my cell phone on top of the deck.   We gassed up the truck with cheap NY gas and left town.  Conclusion:  bad experience in Rouses Point, keel needs rebedding, engine needs rebuilding, minimum.  Possible damage to the keel bolts from crevice corrosion, possible ice damage to keel behind engine, possible damage to floors from flooding.  i decided to pass, and i would have to wait almost a year and a half to see my next Hughes 38.  Someone else bought her, put in a diesel, and sold the next year for a tidy profit.  She has since been on the market again for considerably more.  If i had known then what i know now, i would have bought her.